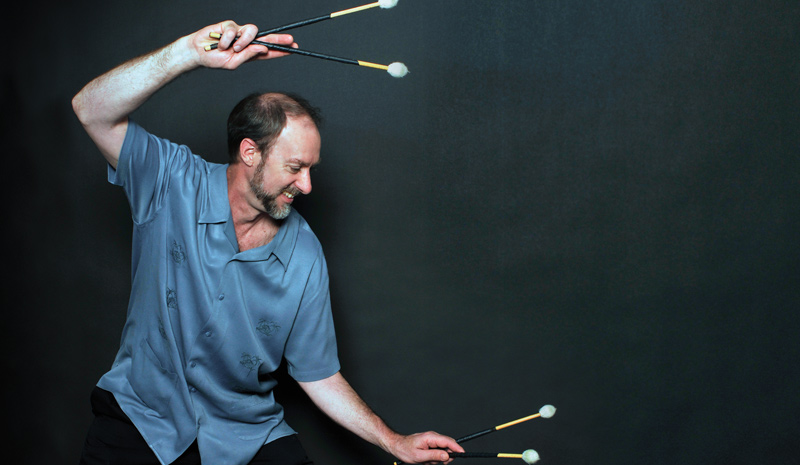 Currently, I perform as a solo instrumental act with mallet synth and loops with the PDX Music Program at Portland International Airport, as well as playing for private parties, Farmers Markets and other events. I have three solo CDs out:  "Stop Loop & Listen," "Forever Endeavor," and "A Delightful Misconception."  These CDs contain a wide variety of musical styles and feature mostly original material, but also include songs by such artists as Henry Mancini, Bela Fleck, and Eric Satie.
Originally from Colorado Springs, Colorado, I am a graduate of the Berklee College of Music in Boston, cum laude, with a degree in Jazz Composition and Arranging. Since moving to the Portland/Vancouver area in 1997, I have performed at most main venues in Portland, including Jimmy Mak's jazz club, with local notables such as Terry Robb, Johnnie Martin, and 3 Leg Torso.  For several years I played drums for "LiveWire" live radio show at the Aladdin Theater as well as playing in the opening act for Pink Martini, during their 2004 California tour.
Locally I have been on staff at Reed College, Lewis & Clark College, the Oregon Ballet Theater School, accompanying dance classes. I have also been on staff at Marylhurst University, teaching classes in improvisation, and Percussion Techniques to Music Therapy students, leading the student Jazz Ensemble, and giving private lessons on campus.
YouTube: https://www.youtube.com/user/Misterubato/videos?shelf_id=0&sort=dd&view=0&app=desktop
Website: http://www.rob-lewis.net/
Paypal: paypal.me/RobLewisMUSIC