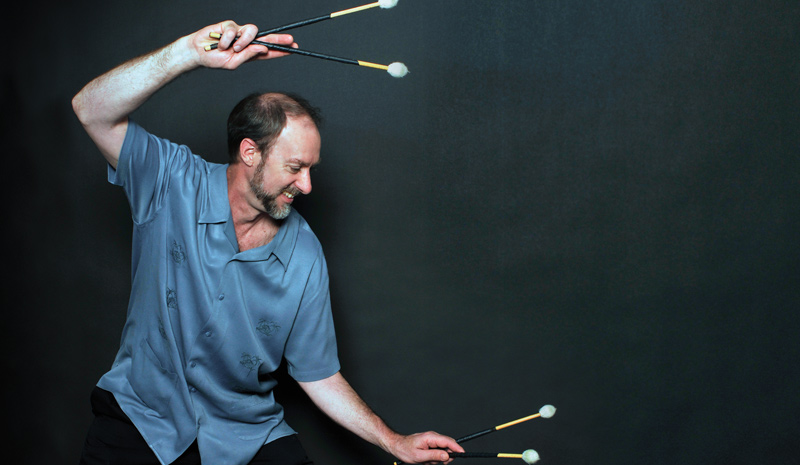 Currently, I perform as a solo artist using live looping. My instruments are a keyboard and a vibraphone. An interesting blend of electronic (keys) and acoustic (vibes) that gives me a wide palette of textures for looping. As I build a song, you'll hear various combinations of Bass, Percussion, Keyboards, Guitar, some Horns, and of course the Vibes! It creates a very full sound replicating a duo, trio, or full band depending on the context. My music is based on improvisation, so there is definitely Jazz, but also World Beat (Brazilian, Cuban, African), Blues, Funk and some Ambient. I play lots of originals in various styles and some covers that I enjoy from artists like Miles Davis, Jay Ungar, Cal Tjader, Young-Holt-Unlimited, Wayne Shorter, Chuck Mangione, Curtis Mayfield, Eric Satie, etc.
Besides performing at the Port of Portland 3 times weekly, I also play for private events: parties, corporate events, Art Galleries Farmers Markets, and others.
I have been on staff at Reed College, Lewis & Clark College and the Oregon Ballet Theater School accompanying their dance classes and some performances. At Marylhurst University I taught private lessons in percussion, led their Jazz band, and taught classes in Percussion for Music Therapy, as well as Improvisation. For several years I played drums for "LiveWire" live radio show at the Aladdin Theater in Portland, and also played in the opening act for Pink Martini's west coast tour in 2004. Portland artists that I have collaborated with include Terry Robb, Johnnie Martin, 3 Leg Torso, Alan Hager, Paul Delay, and Janice Scroggins.
YouTube: https://www.youtube.com/user/Misterubato/videos?shelf_id=0&sort=dd&view=0&app=desktop
Website: https://www.rob-lewis@bandcamp.com
Email: misterubato@outlook.com
PayPal: paypal.me/RobLewisMUSIC